---
In one of the most disturbing supplement findings this year, a dietary supplement made with oxidized lignite coal — yes, coal — has been found to contain so much lead that it exceeds California Prop. 65 heavy metals limits by 600%. (See the original science report and video by Natural News here.)
See my full lab video revealing the lead findings at Brighteon.com:
https://www.brighteon.com/89b9571b-7fd2-4171-92c7-bb1e85ae9fb1
The supplement in question is called "Prescript-Assist," and it's manufactured by Safer Medical of Montana, a supplement manufacturer that has been accused of false and misleading advertising by its own former distributor. (See below.)
The product is also sold by Amazon.com, which apparently fails to test the heavy metals of the products it sells. As a result, Amazon ends up selling many dietary supplements which are heavily contaminated with heavy metals and thereby violate state regulations for supplement safety. Our laboratory testing has repeatedly found Amazon.com to be a retailer of food, spices and supplements which are heavily contaminated with lead and other toxic elements.
The California Prop 65 limit for lead in supplements is 0.5 micrograms per day. California lists lead as causing cancer, developmental toxicity, female reproductive toxicity and male reproductive toxicity.
"Prescript-Assist," manufactured by Safer Medical of Montana is slightly over 5,000 ppb in lead concentration, according to the ICP-MS tests conducted by our ISO-accredited laboratory. The recommended dosage of Prescript-Assist, according to the bottle label, is 620 mg. This delivers 3.1 micrograms of lead in a single dose. This is over 600% higher than the California Prop 65 lead limit, which is 0.5 micrograms per day for any given supplement.
Safer Medical of Montana does not dispute our lead findings. In fact, their law firm's legal letter told us that lead levels are nearly 400% higher in their product than what we found, saying, "The FDA has established the current IRL at 12.5 micrograms per day for adults, the amount in Prescript-Assist."
Via OEHHA.CA.gov: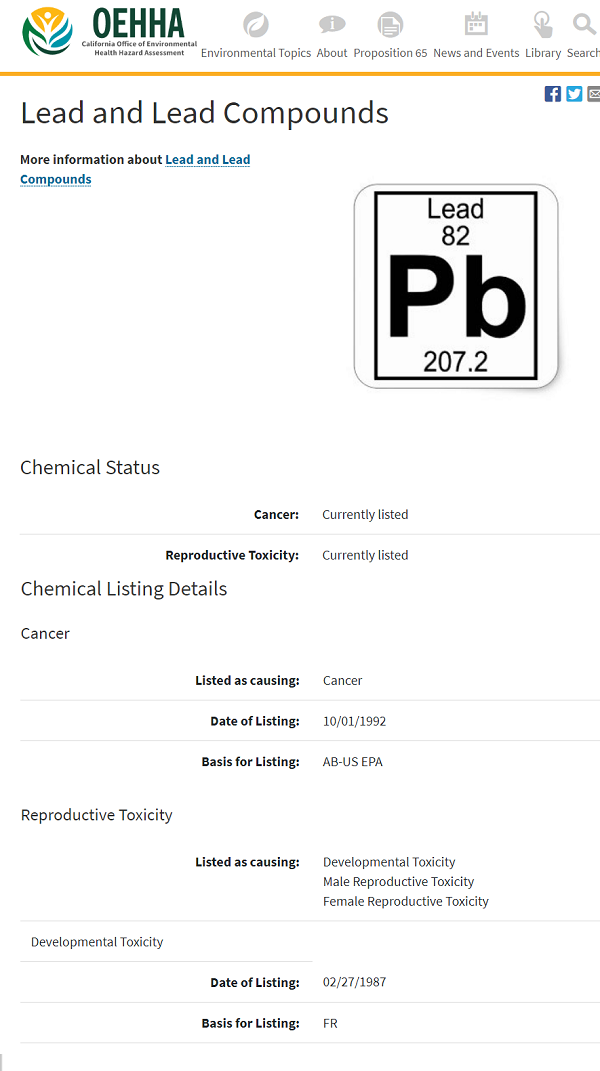 Who does Prescript-Assist use a type of oxidized coal as its No. 1 ingredient?
Where does all this lead come from? Probiotics normally contain no lead at all. We've tested many probiotic supplements, and they all show zero or near-zero levels of lead. So why is there so much lead in Prescript-Assist?
The answer is because Prescript-Assist uses "leonardite" as its No. 1 ingredient, as you can see below. Leonardite is actually known as "oxidized lignite coal" and it's mined out of the ground near coal mines.
Leonardite is not intended for human consumption. It's sold in industrial quantities as a soil amendment because it's also rich in human acid. One supplier of leonardite warns about the risks of consuming the material. See the Safety Data Sheet posted by Leonardite Products which warns about internal consumption of their product (because it isn't intended for human consumption):
Section 4: First Aid Measures
Ingestion: If conscious, drink large quantities of water. Do not induce vomiting. Take immediately to a hospital or physician. If vomiting occurs, administer additional water. If unconscious or in convulsions, take immediately to a hospital. Do not attempt to induce vomiting or give anything by mouth to an unconscious person.
Despite all that, for some reason, Safer Medical of Montana decided to take a mined "coal" powder and make a dietary supplement out of it.
This appears to violate FDA regulations regarding ingredients for dietary supplements. Leonardite is not a food material, nor is it derived from food. It's also not GRAS-recognized by the FDA. We purchased some leonardite from Amazon.com and tested it for heavy metals. The lead level in the sample we tested was roughly 10 ppm, or twice the concentration of lead found in Prescript-Assist.
Natural News has since learned that Safer Medical of Montana (SMMT) was previously accused of false and misleading advertising in a lawsuit brought against the company by a former distributor of its product. That same lawsuit appears to state that Safer Medical of Montana is using agricultural fertilizer as its source of "probiotics." Natural News is currently investigating this claim and will bring you additional reports. If true, it would mean "Prescript-Assist" is a combination of "coal" and agricultural fertilizer that's deceptively marketed as a probiotics supplement, in apparent violation of both state and federal laws.
From the court document linked above: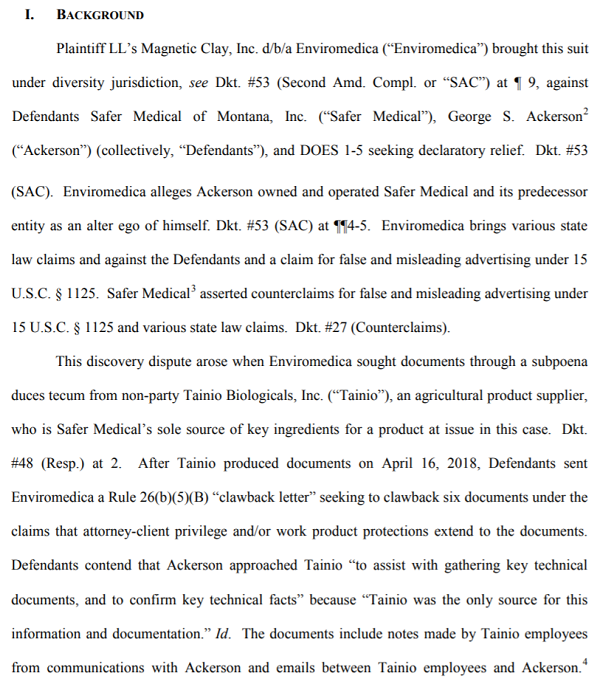 Natural News is currently gathering evidence to present to the Attorney General of the State of Montana for further investigations.
Prescript-Assist also contains nearly 3,000 ppm aluminum
This high-lead supplement also contains what we've characterized as "crazy" levels of aluminum, a toxic element linked to numerous neurological risks and disorders. When tested via ICP-MS, "Prescript-Assist" shows nearly 3,000 ppm of aluminum. (That's not ppb, but ppm, which is 1,000 times higher.)
By comparison, a new study published in the International Journal of Environmental Research and Public Health (March, 2019) warns that aluminum in infant formula poses a health risk to children. The study states, "Human exposure to aluminium is a serious health concern."
That study reveals that the concerning concentrations of aluminum ranged from 0.27 to 3.27 ug / g. These levels are described as "contamination" and a "serious health concern." Yet the concentrations of aluminum is Prescript-Assist, as documented via ICP-MS, are nearly 3,000 ppm (ug/g). These levels are from 917 times to over 11,000 times higher than those found in infant formulas that pose a serious health concern, according to published medical research.
See also: Exley, C. Human exposure to aluminium. Environ. Sci. Process. Impacts 2013, 15, 1807–1816.
See the full video on all this at Brighteon.com:
https://www.brighteon.com/89b9571b-7fd2-4171-92c7-bb1e85ae9fb1
Safer Medical of Montana's law firm admits to outrageous violations of California's heavy metals limits
Even more astonishingly, according to the threatening legal letter from their law firm, SMMT's law firm actually appears to say their product contains 12.5 micrograms of lead per serving, which would be 2500% higher than the Prop 65 lead limit. We disagree with their statement, of course. We found it contains 3.1 micrograms per serving, not 12.5.
That same law firm threatened Natural News and CWC Labs with legal action, in a bizarre attempt to silence the real science that reveals how their product is hazardous to consumers and contains shockingly high levels of lead and aluminum. These threatening action is obviously designed to hide the truth about their product so that they can continue to sell their high-lead, high-aluminum supplement to an unsuspecting public, via Amazon.com.
Instead of replacing their "leonardite" ingredient with something safer — like activated charcoal — they instead resort to threats and intimidation to try to silence the free press that's conducting legitimate, science-based investigations into the composition of their product.
We did not even begin to deeply research this company until after we received a legal threat from their law firm. That became a red flag that forced us to ask, "What is this company hiding?" Now that we've begun to really research this company and its former business associates, lawsuits and product composition, we are beginning to see evidence of a massive public health fraud being perpetrated on consumers across America.
Natural News is the exclusive media source that's running an ongoing investigation into the business practices of SMMT and its products. You won't find this news anywhere else in the world. And we will not be silenced through legal intimidation or even death threats.
As another disclaimer, we weren't even looking at this company until routine testing in our lab showed astonishingly high lead and aluminum results for this product. As Natural News readers know, over the last several years we have tested thousands of off-the-shelf supplements and food products for heavy metals. I've even published the No. 1 best-selling science book on this subject, Food Forensics. That book lists the heavy metals test results for around 800 foods, spices, pet foods and supplements.
Gross violation of California Prop 65 heavy metals limits
We have acquired a bottle of "Prescript-Assist," lot # 1734791. The label shows no Prop 65 warning whatsoever, meaning the product violates California Prop 65 requirements for warning labeling when lead levels exceed the maximum allowable limit.
It doesn't just exceed the Prop 65 limits by a small amount… it blows them away.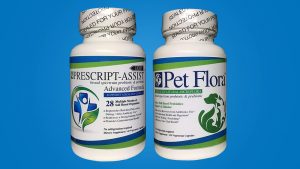 "Prescript-Assist" is not labeled with a Prop 65 warning, meaning it violates the heavy metals regulations of California. Thus, any claim by Safer Medical of Montana that their product is Prop 65 compliant is a lie.
Even while containing high lead levels, Prescript-Assist is marketed for use by children
The label of Prescript-Assist promotes the use of the product in children, by the way, recommending that children take 1/2 to 1 capsule per day: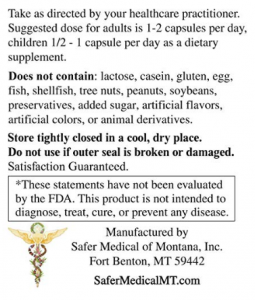 This would expose children to an additional 1.6 micrograms of lead per capsule, even as the State of California warns that consuming lead causes "developmental toxicity," which means it can harm the developing neurological tissues of infants and children.
Thus, Prescript-Assist not only contains alarming, even hazardous levels of a cancer-causing heavy metal; it also promotes the use of its product by children. In order to silence the media, the company threatens Natural News, demanding we remove any reporting on the composition of lead and aluminum in their product.
These are all giant warning signs of a company engaged in widespread deception and fraud. We've seen it before, and we've helped get hazardous products recalled and pulled off the shelves.
At this point, we are putting together a public demand for SMMT to recall their product, refund all customers, remove their product from distribution (as currently formulated) and publicly apologize to Natural News. In fact, if SMMT is smart, the company would issue a voluntary recall before the FDA forces them to issue a mandatory recall. Once the FDA gets their hands on all this information, all bets are off.
We are compiling lab science reports and ingredient supplier information to submit to the FTC, FDA and the Attorney General of Montana, and we won't be threatened into silence on this issue, since public health is at stake.
Have you been harmed by Prescript-Assist?
Have you consumed Prescript-Assist or Pet Flora made by Safer Medical of Montana? Have you suffered harmful effects, heavy metals exposure or digestive problems? We are gathering evidence to submit to the FDA and the FTC as part of our effort to protect the public from dishonest, deceptive dietary supplement promoters that use potentially hazardous ingredients in their formulations.
If you've think you've been harmed by Prescript-Assist or Pet Flora, both made by Safer Medical of Montana, contact Natural News and tell us your experience. We will compile the complaints and forward to the FDA and FTC for further action.
You may also report a safety violation directly to the FDA at their safety reporting portal at this link.
You may also submit a consumer complaint to the FTC over deceptive marketing practices by using this link.
We are also asking our readers in Montana to file a consumer complaint with the Montana Dept. of Justice if you believe you have been deceived or harmed by Prescript-Assist. You can file an online complaint at this link.
CWC Labs will also be sending the Montana Office of Consumer Protection a detailed set of documents, including lab test results, ingredient sourcing research and additional materials.
You can also contact the Montana Office of Consumer Protection to request paper forms for filing a complaint at:
[email protected]
Phone Number:    1-800-481-6896 or 406-444-4500
Mail:    OCP
PO Box 200151
Helena, MT 59620-0151
We are taking these steps to help protect the public from potentially hazardous dietary supplements that are being manufactured, marketed and sold by unscrupulous companies that place public health at risk.
Check back with Natural News for additional updates on this ongoing investigation.