---
Aluminum is a toxic element linked to Alzheimer's disease and other neurological problems. But as an industrial metal, aluminum is incredibly strong for its weight, making it an ideal metal for use in camping cookware products such as portable stoves, cups and various cooking vessels. (Read Aluminum.news for more science news reports on aluminum.)
It brings up the obvious question: Does aluminum camping cookware pose a hazard to human health due to its aluminum content? Stated more accurately, does the aluminum in the cookware contaminate the beverages or meals you're cooking in them, causing you to consume high levels of aluminum?
To answer this question, we're conducting several tests at CWC Labs via ICP-MS instrumentation:
Test #1) Boiling water in aluminum camping cookware (we used rain water for this test)
Test #2) Stirring aluminum camping cookware with wooden vs. metal spoons
Test #3) Cooking tomato sauce (which is naturally acidic) in aluminum camping cookware to see if acidic foods increase aluminum contamination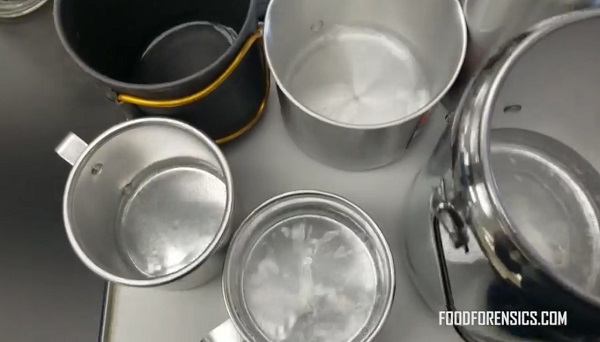 The first test is now complete, and we've released the results along with a new Food Forensics video. (See more videos like this at FoodForensics.com).
The second and third tests are under way now, and we expect to publish the results over the next few weeks.
See the full video at Brighteon.com:
https://www.brighteon.com/f8ace062-443a-4f26-abe1-cf330883b63d
Summary of results:
The bottom line? We found that the first use of some aluminum products introduces more aluminum into water than subsequent uses, but even the first use does not result in any concerning levels or hazardous contamination of any kind. The upshot is that aluminum cookware should always be thoroughly washed first, before use. When used to boil water, aluminum camping cookware does not appear to pose any health hazard or exposure concern whatsoever.
Read more gear reviews and survival gear news at Gear.news.
Next, we'll be testing what happens when you stir aluminum cookware with metal spoons, and we'll also test what happens if you cook acidic tomato-based soups or similar food materials in aluminum cookware.
Another interesting test we are likely to conduct concerns phosphoric acid in soft drinks: Does this acid cause aluminum cans to contaminate carbonated beverages with aluminum?
Watch for more lab science / food safety videos at FoodForensics.com and NaturalNews.com.